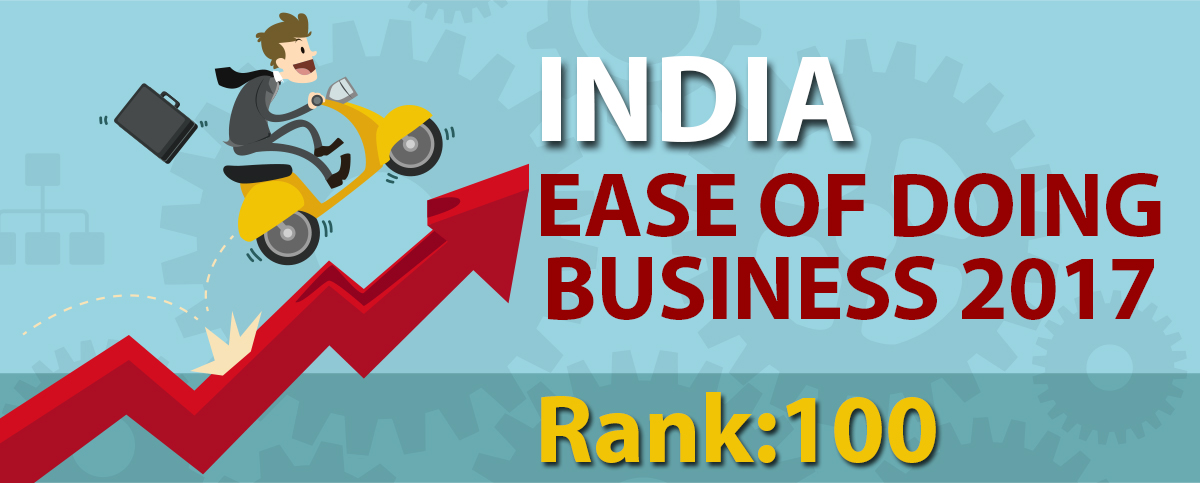 Topics
DB 2018 Rank
DB 2018 DTF
DB 2017 DTF
Change in DTF
(% points)
Overall
100
60.76
56.05
4.71
Starting a Business
156
75.40
73.69
1.71
Dealing with Construction Permits
181
38.80
36.17
2.63
Getting Electricity
29
85.21
85.17
0.04
Registering Property
154
47.08
46.83
0.25
Getting Credit
29
75.00
65.00
10.00
Protecting Minority Investors
4
80.00
76.67
3.33
Paying Taxes
119
66.06
47.67
18.39
Trading across Borders
146
58.56
57.61
0.95
Enforcing Contracts
164
40.76
38.90
1.86
Resolving Insolvency
103
40.75
32.75
8.00

= Doing Business reform making it easier to do business.

= Change making it more difficult to do business.
DB: Doing business DTF: Distance To Frontier
Source: http://www.doingbusiness.org/data/exploreeconomies/india#delhi
World Bank's Ease of Doing Business is an annual report that ranks 190 countries from around the world, based on 10 indicators that span the lifecycle of a business. The Doing Business team at World Bank analyses these indicators in major cities across different nations to formulate the report. In case of India, statistics from Mumbai and Delhi have been used. These indicators reflect the various challenges faced by entrepreneurs across the nation, while the rankings themselves incentivize Government authorities to rectify bottlenecks.
This year's ranking, published on 31 October 2017, saw India's rank jump from 130th position to 100th with "Paying Taxes" and "Getting Credit" indices showing the most improvement.
Centre for Civil Society has been working on reforms to improveIndia's ranking on the index since 2015, focusing primarily on fundamental regulatory barriers in India that directly impact the ease of opening and running businesses, removal of judicial bottlenecks to a conducive business environment, fostering inclusive markets and improving livelihoods for bottom-of-pyramid communities. Our policy recommendations have been incorporated into the Department of Industrial Policy and Promotion's (DIPP) Business Reform Action Plan, 2016 and acknowledged in the Rajya Sabha's 2015 report on the Ease of Doing Business in India.
Two of our key policy recommendations— the annulment of the minimum paid-in capital requirement and the single online registration system for businesses have been recognised as crucial contributors to the improvement in India's performance.
Major Achievements in the World Bank in the Doing Business Report
The important highlights of India's performance are:
1. Resolving Insolvency
(a) Rank improved from 136 to 103
(b) Distance to Frontier (DTF) score improved from 32.75 to 40.75
(c) Strength of insolvency framework index increased from 6 to 8.5
(d) Insolvency & Bankruptcy Code created for efficient handling of restructuring & insolvency proceedings
(e) Professional institutes set up for handling restructuring & insolvency proceedings
2. Paying Taxes
(a) Rank improved from 172 to 119
(b) DTF score improved from 46.58 to 66.06
(c) Payments reduced from 25 to 13 in a year
(d) Time reduced from 241 to 214 hours
(e) Total tax rate reduced from 60.6% to 55.3% (% of profit)
(f) Post filing index improved from 4.3 to 49.31
(g) Enabled electronic registration, return & payment of ESI & EPF contributions
3. Getting Credit
(a) Rank improved from 44 to 29
(b) DTF score improved from 65 to 75
(c) Strength of legal rights index improved from 6 to 8
(d) Credit bureau coverage increased from 21.4% to 43.5% (% of adults)
(e) Increased coverage of security interest registration under SARFAESI Act
(f) Secured creditors prioritized over Government dues for purposes of recovery
4. Enforcing Contracts
(a) Rank improved from 172 to 164
(b) DTF score improved from 35.19 to 40.76
(c) Cost reduced from 39.6% to 31% (% of claim)
(d) Quality of judicial process index improved from 9 to 10.3
(e) Dedicated commercial courts established
(f) National Judicial Data Grid (NJDG) to monitor and manage court cases
5. Protecting Minority Investors
(a) Rank improved from 13 to 4
(b) DTF score improved from 73.33 to 80
(c) Strength of minority investor protection index increased from 7.3 to 8
(d) Extent of conflict of interest regulation index increased from 6.7 to 7.3
(e) Extent of shareholder governance index increased from 8 to 8.7
(f) Greater transparency requirements for interested parties transactions
(g) Greater shareholder protection through action against directors & claims for damages
6. Construction Permits
(a) Rank improved from 185 to 181
(b) DTF score improved from 32.83 to 38.80
(c) Procedures to obtain construction permits reduced from 35.1 to 30.1
(d) Time reduced from 190.0 to 143.9 days
(e) Cost reduced from 25.9 per cent to 23.2 per cent of warehouse value
Reform Highlights Across Different Indices:
Starting a Business: India made starting a business easier by merging the applications for the Permanent Account Number (PAN) and the Tax Account Number (TAN), and by improving the online application system. This reform applies to both Delhi and Mumbai. Mumbai also made starting a business easier via merging applications for the value-added tax and the profession tax.
Dealing with Construction Permits: Dealing with construction permits has been made less cumbersome by implementing an online system that has streamlined the process at the Municipality of New Delhi and Municipality of Greater Mumbai. The online system has streamlined the process of obtaining a building permit, thereby reducing the number of procedures and time required to obtain a building permit in India.
Getting Credit: India strengthened access to credit by amending the rules on priority of secured creditors outside reorganization proceedings and by adopting a new law on insolvency that provides a time limit and clear grounds for relief to the automatic stay for secured creditors during reorganization proceedings. This reform applies to both Delhi and Mumbai.
Protecting Minority Investors: Minority investor protections was strengthened by increasing the remedies available in cases of prejudicial transactions between interested parties. This reform applies to both Delhi and Mumbai.
Paying Taxes: Paying taxes was made easier by making payment of EPF mandatory electronically and introducing a set of administrative measures easing compliance with corporate income tax. This reform applies to both Delhi and Mumbai.
Trading Across Borders: India reduced import border compliance time in Mumbai by improving infrastructure at the Nhava Sheva Port. Export and import border compliance costs were also reduced in both Delhi and Mumbai by eliminating merchant overtime fees and through the increased use of electronic and mobile platforms.
Enforcing Contracts: Enforcing contracts was made easier by introducing the National Judicial Data Grid, which makes it possible to generate case measurement reports on local courts. This reform applies to both Delhi and Mumbai.
Resolving Insolvency: Resolving insolvency was also made easier by adopting a new Insolvency and Bankruptcy Code that introduced a reorganization procedure for corporate debtors and facilitated continuation of the debtor's business during insolvency proceedings. This reform applies to both Delhi and Mumbai.
Labor Market Regulation: India increased the mandatory length for paid maternity. This reform applies to both New Delhi and Mumbai.