The rankings serve as a trusted ready-reckoner for foreign investors looking to invest in a country
India's leap in the World Bank's Ease of Doing Business rankings this year has slipped under the radar, in the cacophony over demonetisation and the RBI-Centre spat.
The country has, in fact, been one of the biggest 'improvers' in the 2019 study, with its rank shooting up from 100 to 77, among 190 countries. This is quite a big jump, given that its rank crept up from 142 to 100 in the four years from 2015 to 2018.
The World Bank now deems India an easier place to do business in than BRICs peers such as Brazil (109) and South Africa (82) and West Asian economies such as Qatar (83) and Saudi Arabia (92).
But it has a long way to go before it can catch up with China (46, the Hong Kong Special Administrative Region is at 4), the U.S. (8) or Singapore (a lofty 2). New Zealand is the top dog here.
But what drove India's meteoric rise? In which aspects of doing business did India see big improvements and where did it lag?
What improved
India's climb in the 2019 rankings seems to have come mainly from sharply higher scores on two 'doing business' indicators — securing construction permits and trading across the borders. It also made smaller improvements in starting a business and getting credit.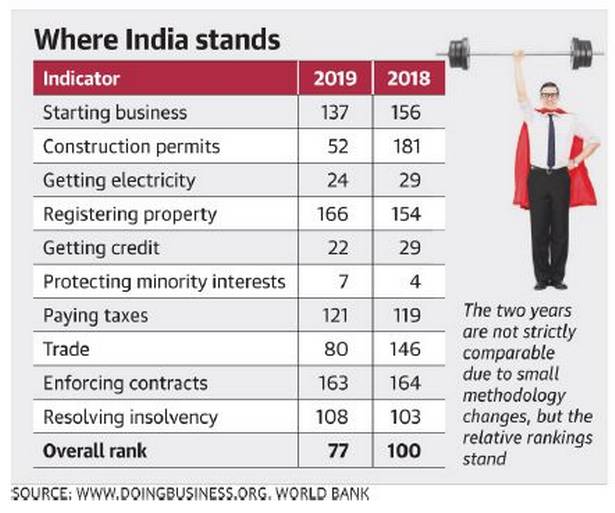 The World Bank found that India's top cities managed to drastically shrink the number of days they took to give out construction permits, from 144 days last year to 95 days, while slashing their costs from 23% of the building value to just 5%. Single-window clearance for securing building permits in Delhi and a new online system in Mumbai, brought about this quantum change.
From 146 on cross-border trade, its rank climbed to 80. In 2017-18, importers spent 264 hours at the border complying with formalities, but only spent 97 hours this year. For exporters, the timeline shrank from 106 to 66 hours, delivering big savings.
Upgrades in port infrastructure, a move to online documentation and facilities for exporters to seal their containers on their own, helped.
India also managed incremental reforms in a few other indicators. On starting up a business, its rank improved from 156 to 137, as the time taken to start a new company was crunched from 30 days to 17 days, thanks to quicker GST registration and the abolition of site inspections in Mumbai.
What didn't
While India managed dramatic changes in some indicators, there were others where its scores barely budged.
Its score remains dismal on registering property, where it ranks 166. While it takes 69 days to register a piece of property and costs about 8% of its value in India, the norm for OECD countries is just 20 days at half that cost. New Zealand gets this done in a single day.
The other vexatious aspect that most business folk will readily identify with, is paying taxes. Despite the advent of GST, India has remained a back-bencher on this at a rank of 121. A typical Mumbai-based firm makes 13 tax payments a year, spends 278 hours on this and coughs up 52% of its profits.
But businessmen in Hong Kong make just three payments a year, those in Singapore spend just 49 hours paying taxes. The average tax rate across global economies is less than half of the Indian rate! India also fares poorly, at rank 163, on enforcing contracts. While enforcing a claim through the courts in Mumbai takes 1,445 days and costs 31% of claim value, OECD nations manage this feat in 582 days at a cost of 21%.
What is measured
But how exactly does World Bank manage to reduce a fuzzy thing such as 'ease of doing business' to a single number?
The EODB study tries to capture the experience of small and mid-sized companies in a country with their regulators, by measuring the time, costs and red tape they deal with.
To collect data, it empanels experts from the largest business cities in each country, with Mumbai and Delhi surveyed in India. It has many rounds of interactions with them — typically lawyers, business consultants, accountants, freight forwarders, government officials — who can capture the experience of multiple businesses. Over 13,800 experts participated in the 2019 study, from June 2, 2017 to May 1, 2018. Each country is assigned a rank out of 190 based on the total score it earns on 10 key aspects of doing business.
The indicators considered now are: starting a business, getting construction permits, securing electricity, registering property, getting credit, protecting minority investors, paying taxes, cross-border trade, enforcing contracts and resolving insolvency.
In short, the World Bank's intent is to measure a country's progress on a few 'doing business' indicators in great depth, without trying to be comprehensive about the indicators, or striving for a statistically large sample. The above facts make the shortcomings of the study obvious. In India, it may not reflect the experience of partnership or proprietorship firms that dominate the small business space, or those located in tier 2 or tier 3 towns. With the ten indicators measured by the study well-known, it is also easy for governments to specially target these areas for reforms.
But the EODB rankings do serve as the most trusted ready-reckoner for foreign investors looking to set up shop in a country. For that reason, this is an achievement for India to celebrate.