The state has implemented reforms in 368 of the 372 areas for reforms listed by the government in areas such as paying taxes, protecting minority investors, and construction permits.
Andhra Pradesh has topped the government's ease of doing business index, ahead of the industrialised states such as Gujarat, Maharashtra and Tamil Nadu.
Andhra Pradesh scored 98.42 percent in the third edition of Department of Industrial Policy and Promotion's (DIPP's) Business Reforms Action Plan, and is followed closely by Telangana with a score of 98.33 percent.
Here are factors that contributed to the state's score:
High reform evidence and feedback scorecard
The final rankings are a result of a combination of "reform evidence score" and "feedback score". Andhra Pradesh scored 99.73 percent and 86.50 percent in reform evidence and feedback, respectively.
The state has implemented reforms in areas such as paying taxes, protecting minority investors, issuing construction permits, providing new electricity connections, registering property and ease in starting a business.
Reforms in construction permits
The state has successfully implemented 90 percent of the reforms listed in construction permits.
These include ensuring that registration under the Building and Other Construction Workers (Regulation of Employment and Conditions of Service) Act, 1996 is provided online via a single window system. It facilitates online application submission, payments, tracking status, approvals and issuance of certificates.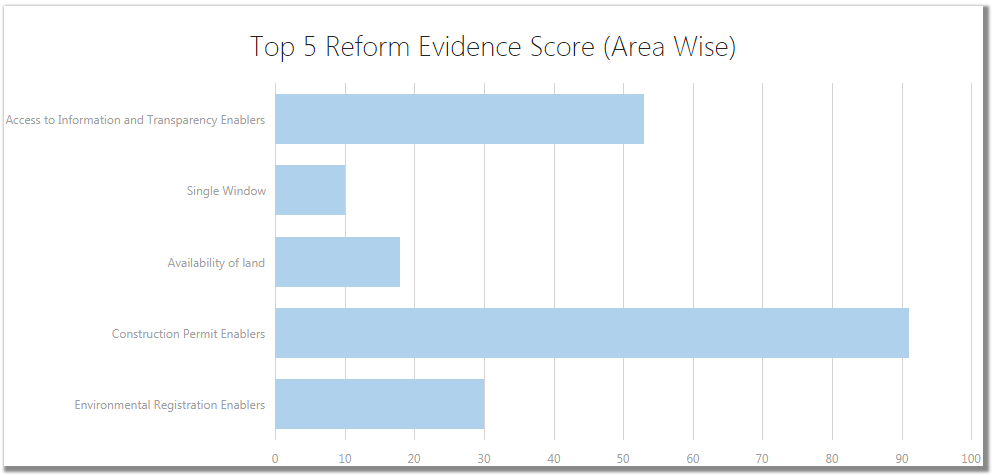 Other reforms include establishing a dedicated conflict resolution mechanism for land and construction permits, implementing a system to allow approval based on third party certification (during construction and/or completion stage, as applicable) of structural design and architectural drawings and laying down a uniform building code.
Reforms to improve access to information and transparency
Andhra Pradesh has brought in several reforms to make government data available for the public to make the system more transparent.
It is publishing information on the department's website about land banks that are available for industrial purposes.
The state has been working on implementing a Common Application Form (CAF) for all services wherein information like an applicant's name, project details, address and related documents can be provided through a single window system.
Documents on pre-construction and post-construction, no objection certificates, registrations and other mandatory state approvals are available on the website.
Implementation of environment registration
Reforms under this category includes allowing third party certifications instead of departmental inspections under all labour and environment laws for medium risk industries.
Other reforms include differentiating compliance inspection requirements based on industry pollution categorisation.
Availability of information on land
The state has implemented reforms to integrate last two years land data at sub-registrar offices, land records offices and local municipality offices to facilitate property wise mapping of transactions.
Reforms in this category include steps to ensure statistics of land disputes are maintained and a list of current disputes is available to the public.
Andhra Pradesh has updated its geographic information system to provide details about available infrastructure such as roads, water, and electricity supply, proximity to national and state highways, railway lines for all industrial land banks of state.
In 2016, Telangana and Andhra jointly emerged as the top states to do business.